World Wildlife Fund (WWF)
Umbrella of technology to protect wildlife
Problem
The illegal wildlife trade, estimated to be worth $7-10 billion annually, is emptying our forests, jungles and oceans. This criminal industry devastates endangered species, damages ecosystems, and threatens livelihoods and security.
Project
The $5 million Global Impact Award is funding specialized sensors and wildlife tagging technology that, coupled with cost-effective analytical software, will disrupt poaching in Asia and Africa.
Impact
World Wildlife Fund will create replicable technologies in four key African and Asian landscapes to help frontline protectors get ahead of poachers.
Updates from the field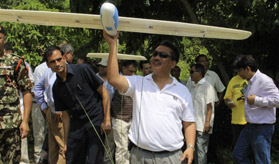 Investigation of emerging technologies to protect high-value wildlife in Africa and Asia is underway by the WWF Wildlife Crime Technology Project. Over 50 aerial monitoring systems have been assessed for their conservation applications.