Geena Davis Institute on Gender in Media (GDIGM)
Technology to analyze and transform gender disparities in media
Problem
Women are outnumbered by men three to one in the U.S. media and five to one in careers behind the camera. Additionally, women are six times more likely to be depicted in sexually suggestive clothing or partially nude in family films. Over the long term, these negative images can contribute to poor academic performance, body image issues, and less promising life choices.
Project
The $1.2 million Global Impact Award is supporting the development of new software that will analyze gender portrayals on screen.
Impact
By speeding up a previously manual process, research findings on gender inequality can more easily scale globally, accelerating the positive representation of female characters in children's media and aiding organizations that work to promote women and girls in a healthy way.
Updates from the field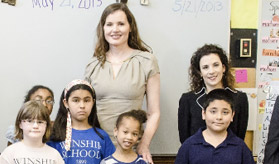 GDIGM has selected their research team and is moving forward with developing methodology and a software tool to advance gender media imagery analysis.
Learn more about Geena Davis Institute on Gender in Media (GDIGM)