Solar lights for off-grid communities
Problem
More than 110 million households in rural Africa rely on kerosene lamps, which emit harmful smoke and can cost up to 20% of a household's income.
Project
The $750,000 grant is being used to scale access to solar lighting in off-grid African communities by establishing a distribution network with local entrepreneurs.
Impact
A solar light costs $8 and lasts five years—just 2% of the cost of kerosene. SolarAid is working with Tanzanian entrepreneurs to create a solar hub for their communities, offering clean affordable lighting, and providing job opportunities. Over three years, solar lighting will reach 11.2 million people and save up to $316 million in income while reducing respiratory illness. SolarAid ultimately aims to replace kerosene lamps in Africa by 2020.
Updates from the field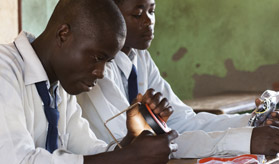 Work on a 'solar business in a box' is underway, training 400 secondary school graduates as solar entrepreneurs. Additionally, 144,000 solar lights are on their way to Dar-Es-Salaam, enroute to rural communities in Tanzania.